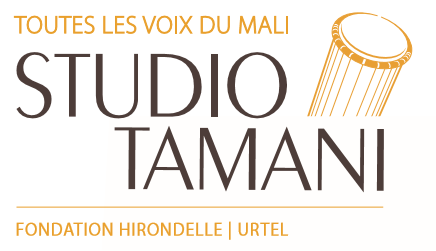 Studio Tamani is a radio studio whose news programmes have been accompanying the daily lives of Malians since 2013 by giving them a voice and access to reliable information in five languages (French, Bambara, Peulh, Tamasheq, Songhai). It was born out of a partnership between Fondation Hirondelle and the Union of Free Radios and Televisions of Mali (URTEL).
Studio Tamani broadcasts four hours and 30 minutes of programs daily, from Monday to Friday: news bulletins, features, the debate program «Le Grand Dialogue» and an educational programme. On weekends, two hours of programmes are devoted to youth and their concerns.
The daily broadcast reaches 95% of Malian territory and is regularly followed by 28% of Malians. This coverage is made possible by a network of 85 partner radios and three private television stations. Collaboration with the company Viamo extends the audience to an additional 1,188,050 people, through listening on a telephone platform available throughout the country.
---
Financial volume
1 936 064 CHF
Sources of funding
• Sweden (ASDI)
• Denmark (FAMOC)
• Switzerland (SDC Programme contribution)
• Czech republic
• United Kingdom (FCDO – CSSF)
• UNICEF
• Fondation Nicolas Puech
• Fondation Madeleine
• Fondation d'Aide à l'Enfance et au Tiers-monde
• Income generated
• Private donations
---
Proximity, inclusiveness and accessibility
In 2022, the security situation in Mali deteriorated severely as attacks on civilians by armed Islamist groups and killings of suspects by pro-government forces in counterterrorism operations increased. The government tightened its crackdown on the media and opposition voices, reducing civic space.
In this tense political and socio-economic context, Studio Tamani continued its mission to inform and encourage dialogue and thus contribute to stability and a return to peace. 26 hours and 30 minutes of impartial, independent and credible programmes close to the people were broadcast each week in five languages through five broadcasting platforms (radio, TV, web, social networks, mobile phones).
In 2022, Studio Tamani revamped its programme schedule with new daily thematic magazines on health, economy and governance issues. The popular magazines on gender and migration, as well as environment and climate change, were maintained.
Studio Tamani, the whole Bafoulabé [administrative] circle is proud of you, because we are informed about everything that happens in the circle. And it is also very clear information. Every time I call the village and tell them what has happened there, they are surprised and ask me how I know. Credible and reliable information. Congratulations.
Boubacar SABE, a citizen of the administrative circle of Bafoulabé, in the region of Kayes in southwest Mali, who lives in Bamako and is a faithful listener of Studio Tamani programmes.
To strengthen proximity to Malians and improve Studio Tamani's productions, 70 reporting, discussion and training missions were organized in the interior of Mali (outside the capital) between May and December 2022, with an average of 10 productions per mission.
For the first time, Studio Tamani moved all the programmes outside the capital to Segou and Kayes (south-central and south-western Mali) to give voice to local populations. For each of these two missions, 22 hours and 30 minutes of news and debate were broadcast over five days from the chosen location.
Gender equality, diversity and social inclusion are at the heart of Studio Tamani's work. Women's representation on the air is up 48%, and Studio Tamani's information comes from correspondents throughout the country.